Admission Management
Student Management

Fees Management
Staff Management
Time Table Management
Examination Management
Attendance Management
Communication Management
Academic Inventory Tracking

Reports & Dashboards
Parent Mobile App
Portal for Parents

Portal for Staff
Portal for Principal

Portal for Management
*Prices may vary as per Modules Selection
Time-Table Module

Students Time Table

: Core subjects coverage monitoring.

Staff Time Table

: Core subjects Vs other subjects.

Lab Time Table

: Monitoring utilization reports.

Teacher Substitution

: Drag & Drop makes it easy to change.

Parents Portal

: To view children Time Table.

Teachers Portal

: To view staff Time Table.

EDUIM Mobile App

: Parents, Principals and Teachers to view the Time Table.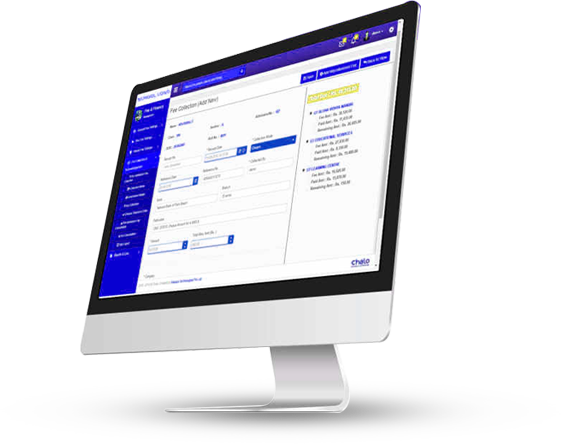 Admission Management Module

Admission Enquiry

: Tracking all enquires with Student name, Parent name, Address, Date of birth and Class/Section.

Application Tracking

: Application tracking at each stage of the admission process - application, interview call, interview completed, selection letter sent or rejected, admitted or not joined).

Automated Letters

: Automatic letter sending option (e.g.: Selection letter, Rejected letter, Admitted letter).

Student Tracking

: Facility to capture students, parents / guardian and previous school information.

Online Application

: Online application for admission along with payment option and age validation.

ID Card Generation

: Student / Teacher ID card generation from application.

Master and Settings
User Management
Front Office Management
Student Management

Fee Management
Staff Management
Time Table Management
Examination Management

Academic Inventory & Tracking
Communication Management
Master and Settings

Easy School Master Data Creation
Easy Data Import and Export
Configurable for any type of School
User Management

Multi Role & User Creation
Authentication & Authorization
School Branch Management
Front Office Management

Call Register
Application Tracking
Admission Enquiry Management
Student Management

Student Profile
Student Performance
Section Allocation
Student ID card Excel file Generation
Achievements Tracking
Promotion
Roll Out Procedures
Roll No & Register No Assignment
Language Assignment
Class / Section Change
Assignments / Achievement Tracking
Student Bonafide Certificate Generation
Fee Management

Fee Master Configuration
Aggregated Fees Categorization
Multiple Mode Fees Collection
Company wise Fee Categorization
Fee Collection
Payment & Receipts
Payment Reconciliation
Fine Calculation
Fee Return Tracking
Tally Integration
Bank Challan generation
Bus and Hostel Fee Tracking
Scholarships and Concessions Tracking
PayUmoney Integration online payment
Fees Cancellation (with Management approval)
Misc. Charges collection
Staff Management

Staff Profile
Class & Subject Allocation
Special Class updating
Syllabus Planning & Tracking
Leave Management
Staff Performance Evaluation
Notes of Lesson
Circular Updating
Homeworks & Assignments Tracking
Time Table Management

Configure Timetable for Students
Rule Creation to Staff
Configure School time with breaks
Subject grouping
Combined Classes
Manual Timetable Configuration
Teacher Substitution option
Generate Class Timetable, Staff Timetable and Lab Timetable
Truly Automated Timetable Generation
Examination Management

Examination Configuration
Grade Configuration
Easy marks entry screen
Easy marks upload
Progress Card generation
Progress Card Email to Parents
Competitive Examination Configuration
Competitive Examination Results updating
Academic Inventory & Tracking

Track Supplier Master
Track Item Master
Purchase Request
Indent Generation
Goods Receipt
Configure Fee-wise items
Track issued & unissued quantity
Track item inventory
Issue entry against fee receipt or purchase receipt
Communication Management

Automatics SMS & Email configuration
Scheduled SMS Configuration to Management
Bulk SMS to Parents & Staff
Call Register & Application Status Report

Class-wise Student Details
Student Contact Report
Fees Projection / Collection / Balance Report
Student Performance Reports
Attendance Reports for Students & Staff
Staff Contact Reports

Syllabus Status Report

Student Mark Analysis Report with Graphical view

Portal for Parents

Portal for Staff

Portal for Management

Portal for Principal
Parents Portal

Student Profile Information
Attendance View
Performance Graph
Get in touch with our experts for a demo and know what EDUIM can do to your regular school administration activities.
© EDUIM 2019, All Rights Reserved.